It's been a big year in renewable energy for one of the nation's sunniest states. This past summer we covered some news that will certainly change the conforming energy bill in California (here's the blog we wrote on it). As summer ends and fall begins, here are some headlines in the renewable energy world, and how we think they'll be affecting you in Northern California.
A Solar Shift in Sacramento
The last couple months, lawmakers have been hard at work in Sacramento courthouses, passing some renewable laws that will make California a cleaner, safer place for its residents. Cleaner because the material we put out in the air determines the climate around us, and safer because the climate determines the kind of fire season the state experiences. We've experienced the hottest string of summers in state history, but we believe we have the power to change that.
This past summer, California approved a 100% clean energy bill, an ambitious piece of legislation dedicated to clean energy and bright future. Bill 100 will make California 60% carbon-free by 2030, and fully free by 2045. The carbon free trajectory pushed by Governor Brown is representative of the state taking regional action against climate change. Brown's statement to the approval of the bill was as followed: "The state is wholly committed to doing whatever is necessary to meet the existential threat of climate change."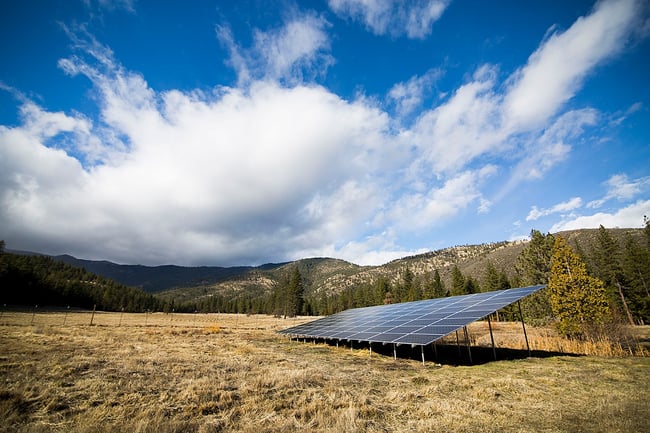 Why is California Pushing a Carbon-Free Future?
The last couple summers in California have been some of the hottest in the state's history, and as result, six of the worst wildfires in California history have followed. While climate change may not necessarily be the reason for wildfires, they certainly add to the severity of each fire. Point blank, a hot summer is like kindling to a wildfire. The way we choose to do energy here at home in Northern California is a start to a future with fewer fires. Abraham Lincoln knew what he was talking about when he said, "The future happens one day at a time."
After witnessing the devastation in Redding due to the Carr Fire, Governor Brown thought more about our relationship with climate change. He had this to say to the LA Times: "People are doing everything they can, but nature is very powerful...and we're not on the side of nature if we're fighting nature with the materials we put out into the environment. And that material traps heat."
Conclusion
In an earlier blog, we covered the strict liability that PG&E faces after their equipment was linked to causing 16 California wildfires in 2017. We stated that the funds for such a liability must come from somewhere, and that historically they've come from PG&E customers. A big part of this most recent session in legislature is deciding, "Who pays when an electric company's equipment causes a wildfire?" The answer as of now is the electric company, and that means, eventually, you. It'll take a certain convergence between renewable and nonrenewable energy forces to bring the energy conversation into one that is both pro-environment and pro-electric bill. The future in California is dependent on elements that make for cleaner air and safer equipment. It is to that end, that we as Californian's press.