Five years ago, you couldn't buy a solar system for your house unless you paid cash for it. Today, solar energy is incentivized as a wise financial investment. It includes a 30% tax rebate as well as low interest loan options. The enlightenment that solar energy brings to the world is making it the trusted, logical choice for electricity. Banks are partnering with solar energy to see clean and sustainable power brought to the entire world. So, how do you get set up for a loan? If solar is so accessible, what keeps you from buying a system?
Why Solar?
The number one reason Americans do not switch to solar is farfetchedness. After all, just five years ago the only people switching to solar were hippies hell bent on saving the planet. The price for buying systems was too high at that point, unless you really believed in solar. Today, solar is more affordable than ever, and people are making the switch because of the logistics that surround the purchase. Solar powers over 1.5 million homes in the U.S., and is predicted to change the energy landscape in years to come.
You can get a loan for a solar system, pay the same amount on it per month that you would for non-renewable energy, and when the loan is up, you can own your own power plant. Makes sense right?
The Loan
Solar is not so far-etched these days. The only thing that kept solar from breaking out onto the energy market were the prices for the systems, which are down about 31% from 2010.
Today's quality solar system costs about $25,000 after tax credits. It's a system backed by a 25-year warranty and built by solar's greatest innovators. Today's systems have been developed to last at least 25 years, with most systems predicting little change in productivity from years 25-35. A system that powers your life is only one investment away.
A homeowner should consider a loan for a solar system if they plan on staying in their house for years to come. Home equity loans bring about the most savings in the long run. These are when the homeowner gets a loan against the value of the home, thus reducing its equity. The loan agency works to structure the loan so that the homeowner pays less per month on the loan than they did on the electric bill. These loans can last from 7-20 years, and in states like California, the loan's interest may be tax deductible.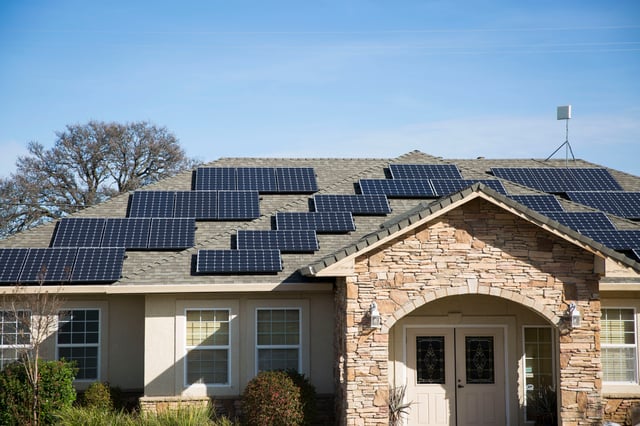 Last Thoughts
Overall, the homeowner should consider switching to solar because it guarantees free energy once the loan is paid off. Loans can be structured so that the homeowner pays the same price per month for the loan as they did for the electric bill. Regardless of what method of electricity the homeowner uses, they always pays X amount of dollars per month for it. Solar proposes that you pay that X for a system you can own. This means the homeowner will see a day where the system is paid off and energy is truly free. Addy Solar exists to create that custom solar solution for your home. Request a free estimate today, and start your switch to solar energy.