Solar energy is the way to go in Northern California. With all this sunshine, it's just a matter of time before all of NorCal is taking advantage of it. In recent years, solar systems weren't affordable for the middle-class family. Today, they are incentivized in California as a wise financial decision. Federal taxes offer a 30% rebate on any solar system purchased in California. Local electric companies like REU have even offered rebates for the homeowner switching to solar. Find out why now is the time to make the move to solar energy.
The Solar Tax Credit
In 2016, congress approved a bill to incentivize solar energy. The bill created a 30% tax rebate for the installation of any residential or commercial solar systems. This investment tax credit (ITC) saved the average solar shopper $5,000 in 2017. The truth is, solar is an expensive endeavor to say yes to. It pays off, but at first it may not seem like it. Tax credits like this one take some of the bind off of the purchase.
Local Incentives
In regions like Northern California, local electric companies are also paving ways for solar. In Redding, REU (Redding Electric & Utility) has created rebates for anyone switching to solar in Redding. REU gave one local a $5,000 rebate for the system he installed at his house. That $5,000 rebate was on a $30,000 dollar system. After the ITC, the $30,000 system was purchased for $17,000. The homeowner now has the ability to choose a loan option with a comparable payment plan to their old electric bill. If a bird's eye view is taken on the investment, this homeowner took on very little loss to experience a future of free energy. Solar energy can only fail if the sun stops coming up. Investors like the odds.

Roof vs. Ground
Upon installation, you can choose to have the solar system installed on the ground or on the roof. Ground installation is only possible if you've got space on your property with no shade. If your roof is 5-10 years away from needed replacement, it is recommended that you replace your roof before installation. With a free consultation, your local solar expert will determine which installation would be ideal for you. If your roof is 6-7 years from replacement, and you've got plenty of space in the backyard for a system, you could forego roof work before its time and have your system on the ground. Addy Solar & Electric can explore the solar possibilities that your home may already have.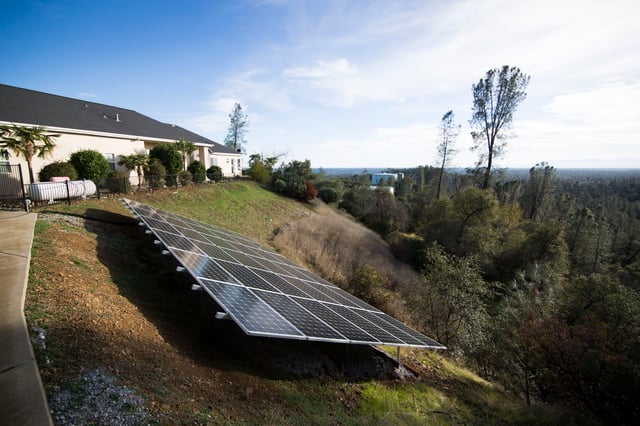 Last Thoughts
At both the local and federal level, the country is making a move towards renewable energy. One by one, states are creating plans to eliminate non-renewable resources like coal from our environment. To this end, electric companies are moving towards cleaner, freer energy; both of which exist in solar energy. The US is following California's lead towards a cleaner state of energy, and California is making access to this energy more affordable than ever.