California just became the first state to enact a solar energy requirement. As of 2020, all new construction in the state will require solar as its energy source. Furthermore, California law is also requiring that the state get half its energy from non-carbon sources by 2030. California is structurizing itself towards renewable energies, and for it, future California homeowners must comply.
California's Connection With Solar
California has become the "solar state", leading the nation is solar installation and solar efficiency. Today solar makes up 16% of the energy market in California, and employs about 80,000 workers. This passed law to require solar installation on new construction really takes the cap off the solar market. The state predicts that in 2020, 165,000 homes will go up in California, and all of them will get the advantage of free, renewable energy. This new law will put more of the population into contact with California's greatest resource: the sun.
Will This Make Homes Built In And After 2020 More Expensive?
For the last few years, California has harnessed more solar energy than they could use. The energy departments ended up sending the extra energy to other states simply because they had no place for it. The California Public Utilities Commission set in motion that by 2020 all new construction must be able to produce its own energy without having to buy it from the grid. This means that the trajectory of solar energy is towards the homeowner getting all their energy freely from the sun. The energy commision did a study and concluded that for a thirty-year mortgage, solar owners will experience $80/month of savings on heating, cooling, and light bills. While solar installation would add about $40/month to the average mortgage bill, the way it eliminates the electric bill offsets the system and sets the homeowner up for lifetime savings.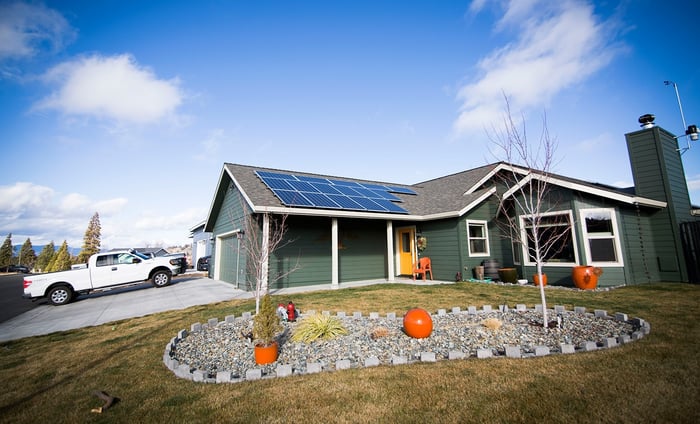 Overview
California is committed to the solar solution, and this law works to further rectify the consequences of nonrenewable energy. By 2020, building a house that comes with its own power plant will be the standard. While there is no state that has made a move this bold, the shift will show the true colors of solar energy, and will better its industry. The industry has made great strides to develop a technology that harvests all this sunshine. Legislature believes that the "solar state" of California is ready for its biggest step yet.